Comedy 4 Cancer Presents. Dear Cancer F-Of
 Comedy 4 Cancer returns to The Imperial House 34701 Groesbeck Hwy, Clinton Township MI 48035 on Tuesday April 11th. Doors open at 6:30 pm and ShowTime is 7:30 pm. This event is to celebrate the life of our daughter Stephaine who passed away on April 11th 2015. The show will contain mature content and adult language. We suggest this show is more suitable for an 18 or older crowd.
We will have 3 comedians performing at this show including our headliner Mike Stanley.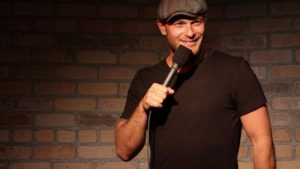 WRY, WITTY, CUNNING, AND CRASS Detroit native Mike Stanley is all of these things, but none, when put on paper, quite manage to serve the justice dealt by Stanley onstage. Yeah, he's pretty hilarious, but more than just coarse anecdotes about life and sex, there's an enviable amount of heart and warmth behind Stanley's humor.
Given his penchant toward brutal honesty, spiced up with a healthy dose of insatiable wit, it's not difficult to see why Stanley was named "Best Chicago Stand-up
Comedian" in a Peoples Choice poll done by the Chicago Reader and "Best Detroit Comedian" by HOUR Magazine.
Originally hailing from Detroit, and after spending a decade honing his craft in the Windy City of Chicago, Mike tours constantly, both domestically and internationally. Don't miss out on an incredible opportunity to catch the man in action - this high level of killer stand-up is too remarkable to sit out.
Mike will be joined on stage by two more comedians to be announced soon.
Tickets are on sale now. We have two seating options. General Admission which is $10.00 in advance and $15.00 cash at the door. We're also offering a seating option called Table for 4. This is a table close to the stage to accommodate 4 guest. The price of this group package is only $40.00 (Currently only 5 are available)
Purchase Tickets